About
The mission of our company is to provide our customers with high-quality logistic services, perfectly tailored to their needs and wishes. Customers' satisfaction and loyalty is our utmost motivation and reward for the services we provide.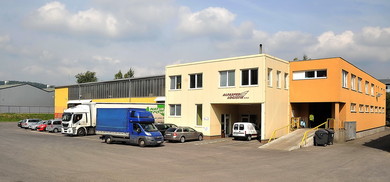 Basic information
ALFASPED LOGISTIK s.r.o.
Belgická 4883/3
466 05 Jablonec nad Nisou
Czech Republic
Centres:
Logistic centre and company's headquarters: Průmyslová 906, 468 02 Rychnov u Jablonce nad Nisou
Logistic centre: Belgická 4883/3, 466 05 Jablonec nad Nisou
Main line of business:
dispatch
domestic and international forwarding including arrangement
road cargo transport
handling and storage of goods
cleaning containers and other plastic boxes, container management and care
logistic services - reloading, cross-dock, handling, archiving, inspecting and sorting
customs and economic consultancy
Established: 09/12/1999
Registration: Regional Court in Ústí nad Labem, section C, file 16262
Company Identification No. / Tax Identification No.: 25410792 / CZ25410792
Contacts:
Memberships
Association of Forwarding and Logistics of the Czech Republic
Certification
ALFASPED LOGISTIK s.r.o. received the ISO 9001:2015 certification in every area of its business, i.e. international and domestic forwarding, warehousing, logistics, industry washing and cleaning of plastic circulating containers, packaging and final goods dispatch.