Transport and forwarding services
International and domestic transport of materials and goods, focused on road transport, and a possibility to arrange both rail and air transport.
Full Truck Load transport and transport using just a part of the truck.
International and domestic transport and forwarding is a basic and traditional service that ALFASPED LOGISTIK s.r.o. provides its customers with.
We are a neutral intermediary to negotiate optimal conditions for transport, preferring benefits for our customers to making full use of our own vehicles. The way we provide the transport enables us to ensure any kind of transport according to the type and amount of the ordered goods.
Provided services:
domestic and international transport
focus on road truck transport
a possibility to arrange road or air transport
full Truck Load transport and transport using just a part of the truck
ordering, checking and optimizing the transport process using a modern TOCDB online application
you can use our logistic centre in Jablonec n. N. to reload the goods, for consignment and standard storage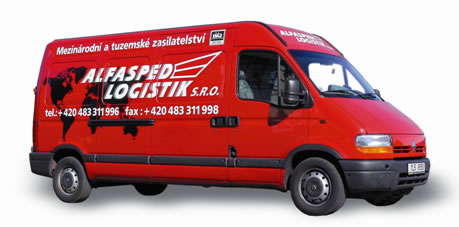 TOCDB – Transport Order Control Database:
online access for our customers
we record the entire transport process, from placing your request to delivery of the goods
maximum amount of information for the customer: loading and unloading date, vehicle type, registration number, names of the drivers and respective freight forwarder, order processing state etc.
you can print or export the documents to PDF and get well arranged records